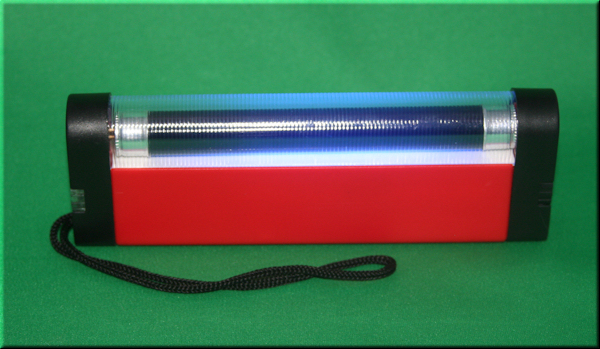 Black Light
This is our utilitarian workhorse. Inexpensively priced and able to take a lot of use, this fluorescent black light puts out 4 watts of power in the dark. It is the kind that you always want in the back of the drawer when you need this type of light.
So often you see something under the black light and then want to see what it looks like under normal light - well, we have solved that problem with a small flashlight at one end. With a simple flick of the thumb, you switch from black light to normal flashlight and then you can just as easily switch back. This is one of the nicest features we have seen in a long while. You will love this feature.
This is a 6" handheld black light fixture.. Works with 4 AA batteries which are not included. Checking hand stamps, finding pet stains, checking for bacteria, applying black light sensitive cosmetics, searching for antique glass, and our personal favorite... hunting for scorpions at night in the desert (eek!) are just a few of the uses we've heard about.
Bottom line, if you want a black light to check out amber and do not want to pay a lot (but you want it work well) - this is it.
By the way, if you are interested in black lights, our sister company:
Black Lights USA is a great place to look.